There are unlimited ways to show off your love for Bigfoot. Take a look at these special selections of truly awesome Bigfoot apparel. No matter if you're a die-hard fan, or just a casual Bigfooter, there will be something for you.
---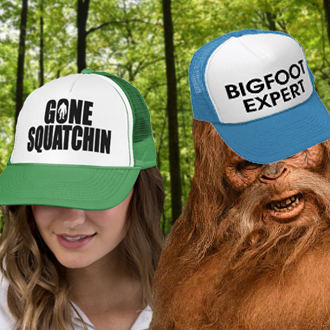 Bigfoot Hats
Click HERE for the Bigfoot Hats Page
Hats really do help illustrate a person's unique style and personality. Of course you have your Indiana Jones and Sherlock Holmes, but from an everyday standpoint the design of your 'lid' (hatspeak) can bring out a lot about a person… like one's interest in, appreciation for, or, sure, obsession with Bigfoot.
Some of these Bigfoot hats help convey an outward, passionate interest in the cryptid. For others who would rather remain a bit more Big Foot Down Low, there's plenty of unique, muted silhouette options. Pick your favorite and let your Squatch flag fly, however high you want. GO TO THE BIGFOOT HATS PAGE >>
---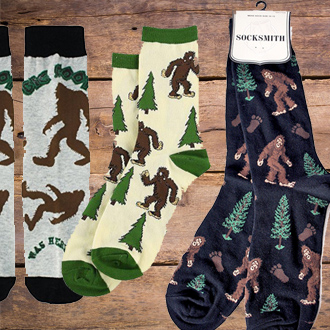 Bigfoot Socks
Click HERE for the Bigfoot Socks Page
Socks sure have come a long way haven't they. Ever think you'd see Bigfoot socks? Remember just a few years back when the idea of giving socks as gifts was reserved strictly for your Dad or Grandpa? I think it's safe to say that socks are REBORN.
We have whole shops dedicated to socks now. And they're finally available all over, rather than merely the sad, dark corner of your mom's favorite department store. With this colorful rise from the ashes comes a whole generation of Bigfoot socks. Pop culture icons deserve their own designs. Check out these fantastic Bigfoot socks in all of their colorful, Squatchy glory. GO TO THE BIGFOOT SOCKS PAGE >>