The greatest cryptid on earth is a bonafide pop culture staple. Along with Sasquatch stardom comes a library of toys, dolls, and action figures. You're not BIG, unless you're made small and plastic, I suppose. If you are looking for a Bigfoot research kit for little Johnny, or just want to sleep soundly with a comfy Sasquatch plush, each of these items will please cryptid fans young and old alike. These Bigfoot toys and dolls have their own style and feel that speak to each individual differently. Some are rooted in classic 70s Bigfoot nostalgia whereas others are reflective of today and, no doubt, for years to come. These Bigfoot toys and dolls will tickle that special appreciation we all have for the mysterious monsters in our wilderess.
Jump to:
---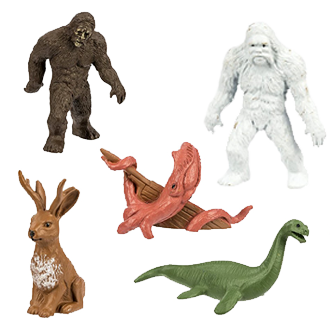 Cryptozoology TOOB Figurines, by Safari Ltd.
This large set includes a variety of mythical creatures including Bigfoot, Yeti, the Loch Ness Monster, Jackalope, Kraken, the Furry Trout, and Coelacanth. Each figurine has a colorful representation. Included is informative facts to teach people a little more about each creature that they probably didn't already know. Each is hand painted and made from lead and phthalate free materials. Of course, the Bigfoot figurine and Yeti figurine are the best!
✓Ages 3 and up

---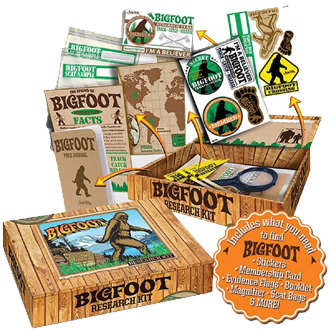 Bigfoot Outdoor Research Kit, by Archie McPhee
A colorful kit for any Bigfoot enthusiast or adventurer. This Bigfoot research kit contains stickers, a membership card, evidence flags, scat collection bags, a information booklet, a field journal, and a magnifier. Each kit is colorful and makes searching for Bigfoot even more fun that it usually is and a good starting kit for children. It is time to go Bigfoot hunting.
✓Ages 8 and up

---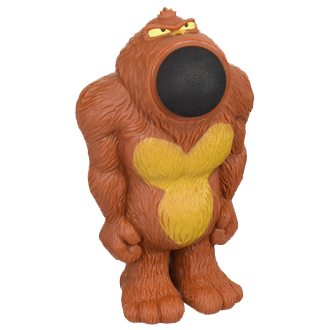 Bigfoot Popper by Hog Wild
An old school Bigfoot toy, this specialty Bigfoot Popper can shoot a small foam ball up to 20 feet! Included with this wonderful popping Bigfoot toy are 6 foam balls. A rapid fire effect and occur if you can reload fast enough. With some great patience and practice, you and Bigfoot can take aim at friends and family.
✓Ages 3-7

---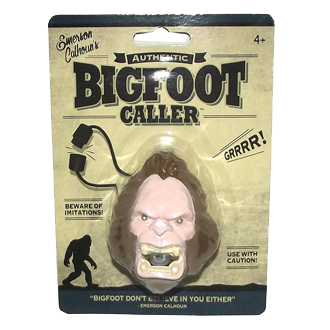 Emerson Calhoun's Authentic Bigfoot Caller, by Alley Oop!
Good for any Bigfoot enthusiast looking to go searching for Bigfoot. This specialty caller has two distinct Bigfoot noises depending upon how the user blows into the mouthpiece. If you blow gently there is a soft, soothing almost sound whereas the harder you blow the louder and more yell like Bigfoot sound you will get. Feel free to try it out both ways when searching for your Bigfoot.
✓Ages 4 and up

---
Minifigure Bigfoot, by LEGO
Perfect for any LEGO lover and Bigfoot lover alike. This small 2 inch tall Bigfoot collectible shows a likeness to Bigfoot in true LEGO fashion. Then again, it is also an awesome toy for kids to love playing with on their own LEGO sets. The only real downside to it is how close in art it seems to Chewbacca. Still, this is an awesome little Bigfoot collectible.
✓Ages 3 and up

---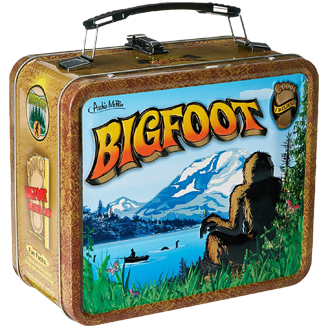 Accoutrements Bigfoot Lunchbox, by Accouterments
A trip back in time takes us to this classic metal Bigfoot lunchbox. It sports a plastic handle for durability compared to its older counterparts, but altogether this is truly and old school way to show off your favorite hero… Bigfoot. Measuring in at 8x7x4 inches, this lunchbox also has Bigfoot facts written on it for good lunchtime reading material. At lunchtime everyone will get a chance to see just what Bigfoot is packing.
✓Ages 10 and up

---
Sasquatch Stuffed Animal, by: This Place is a Zoo
This 17 inch tall Bigfoot doll has a very interesting face. It is apelike in a way and maybe a little more disturbing for younger children, but great for any Bigfoot doll collector. It has long, soft fur in lighter brown shades and is almost classic in the actual design of the old school Bigfoot's.
✓Ages 3 and up

---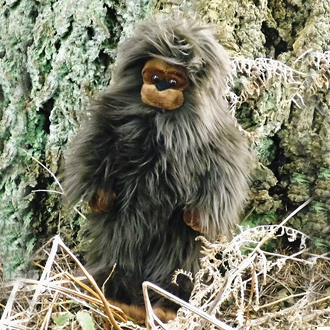 Stuffed Sasquatch Doll, by This Place is a Zoo
Much like the previous Bigfoot doll, this Bigfoot measures in at 17 inches tall but then it differs. This Bigfoot doll is less rigid and more ready for hugs and loving. It has a softer face that is more toylike than it is realistic. You could say this Bigfoot doll is more cutesy and targeted for the younger children for sure.
✓Ages 3 and up

---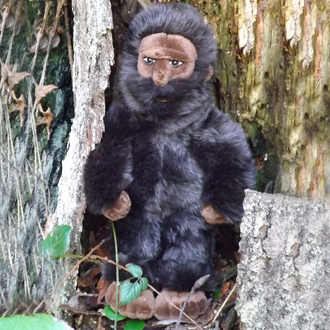 Bigfoot Stuffed Toy, by This Place is a Zoo
With the same face as the first Bigfoot doll by this company, this new Bigfoot doll is like the smaller sibling. It still sports the same soft fur only a few shades darker. This Bigfoot doll is a bit more rigid than its counterparts making it more for display than cuddling, yet it is still great for any Bigfoot lover.
✓Ages 3 and up

---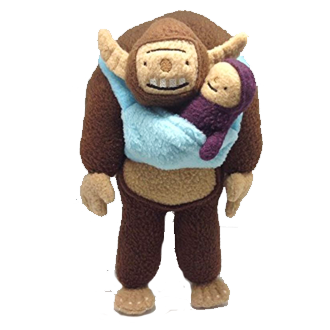 Mr. Samsquatch & Baby, by Suoplushie
This handmade Bigfoot doll set is adorable for a Bigfoot believing family who want an alternative for a mom and baby doll. One main point for this doll is the fact it is a father Bigfoot and baby who the dad carries in a sling. Made from 100% polyester and anti pill fleece, this is a super soft and cuddly set. The papa Bigfoot measures at 8 inches and the baby is at 3 inches. Altogether this handmade Bigfoot doll set is great for young children to start their Bigfoot hunt with.
✓Ages 3 and up

---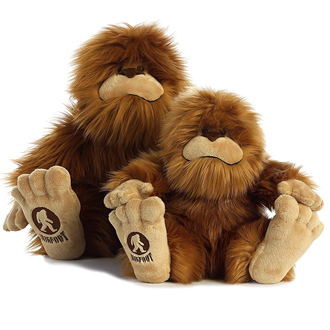 Bigfoot Plush, by Aurora
A 16 ½ inch tall plush, this is a soft Bigfoot doll that is absolutely perfect for cuddling with. Made from high quality and durable materials, this is a product sure to last for many years, you could almost say that this Bigfoot doll will last just as long as the mystery surrounding this mythical creature. One of the large feet sports a embroidered design from the company showing just who this Bigfoot is.
✓Ages 3 and up

---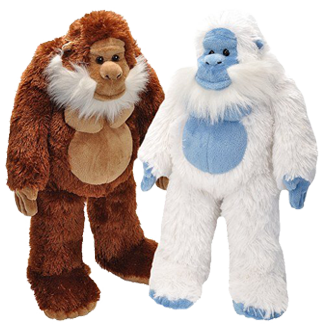 Animal Planet Bigfoot & Yeti Plush Set, by Wild Republic
With two super soft Bigfoot dolls, this is an awesome set of Bigfoot and Yeti dolls. Each one measure in at 12 inches tall and had minimal rigidity so that it is still Nice and soft. The Yeti doll sports pretty white fur and the Bigfoot doll has the classic brown fur on it. You know you are going to get a realistic Bigfoot doll with the help of Animal Planet around.
✓All ages

---
Each Bigfoot toy or Bigfoot doll has advantages. Keep in mind your age group, but don't let yourself not enjoy a Bigfoot toy just because you're gettin' older! Some feature a more classic Bigfoot style which would be better as collectibles, whereas others are more suited for rough play to last a child for years to come. These are all great pieces that will keep your giftee smiling and happier than a Skunk Ape in a hot swamp.