Despite what you may have thought as a kid, socks don't need to be a boring gift. When the design matches the personality of whoever is wearing them, socks can be exactly what they want in holiday or birthday present. Know someone who needs a new pair of socks? Someone who also has an undying interest in Sasquatch? They'll love the socks on this list. All are made with comfortable, durable materials, and all of them depict Bigfoot in a wide range of situations. Some are predictable, with Bigfoot wandering through the wilderness. Others are out there, showing what would happen if the cryptid embraced its inner surfer. All are ideal gifts for Sasquatch enthusiasts. Pick up a pair for someone special in your life, or treat yourself to some new, stylish socks.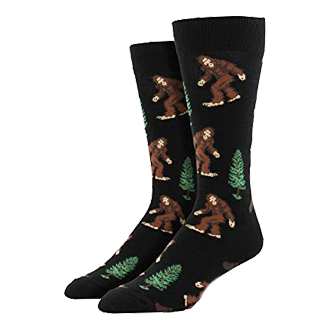 Bigfoot On the Move Black Crew Pair from Socksmith
What's a simple way to make a pair of socks cooler? Add some graphics of Bigfoot tracks, trees, and the elusive creature itself. They'll keep you warm, while also reminding the world that you may be interested in the cryptid, but that doesn't mean you always have to take the topic seriously. They're also quite comfortable, making them ideal for any occasion. Grab a pair for yourself, or your favorite Bigfoot enthusiast.
✓ Cotton blend
✓ Officially licensed

---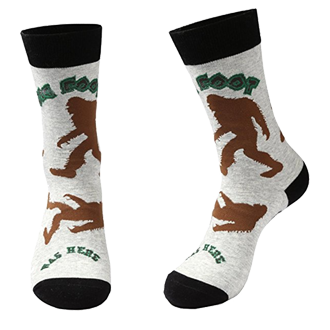 Bigfoot Was Here Grey Socks from Zmart
Know someone who appreciates gag gifts? How about someone who reads books about Bigfoot, watches Bigfoot documentaries, follows every Bigfoot blog on the planet, and also happens to need a new pair of socks? They'll love this novelty pair, featuring images of the cryptid and text, indicating that wherever you go, "Bigfoot Was Here."
✓ 80% Cotton, 15% Nylon, 5% Spandex, soft and comfortable
✓ Moisture wicking, ventilation, smell free, durable
✓ Fits socks size 8-12

---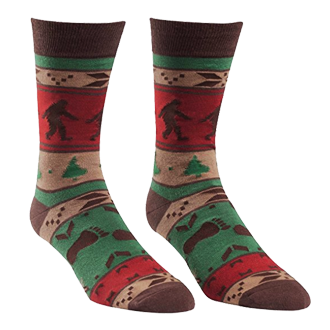 Bigfoot Sweater Socks from Sock it To Me
If you love both Bigfoot and sweater designs, this pair of socks is sure to be a welcome addition to your wardrobe. The socks depict Bigfoot and his famous footprints, in a classic sweater design pattern. Next time you're invited to a holiday sweater party, go the extra mile with this stylish pair of socks. They'll ensure your outfit makes an impression.
✓ 52% polyester, 46% cotton, and 2% spandex
✓ Men's crew sock, fits shoe size 7-13, approximately

---
Socks of Bigfoot Wearing American Flag Socks from BF Sock Co.
While Bigfoot has his foreign counterparts, like the Yeti, the famed cryptid of the Pacific Northwest is still an undeniably American phenomenon. Celebrate this national legend with a pair of socks depicting Bigfoot wearing its own pair of patriotic red-white-and-blue socks, strolling through its stomping grounds. A quirky tribute to an iconic American character, as well as the beautiful region it calls home.
✓75% Cotton, 22% Polyester, 3% Spandex
✓ One size fits most

---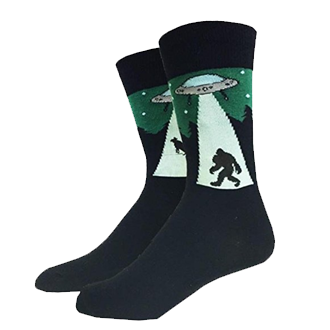 Bigfoot Abducted by Aliens Socks from Bigfoot Sock Co.
There tends to be a lot of overlap between Bigfoot enthusiasts and UFO fans. If you're interested in the paranormal, you don't just limit yourself to one phenomenon. This pair of socks is perfect for someone who's interested in both extra-terrestrials and the world's most famous cryptid in equal measure, featuring a graphic of Bigfoot just as he's about to be abducted by aliens.
✓75% Cotton, 22% Polyester, 3% Spandex
✓ One size fits most

---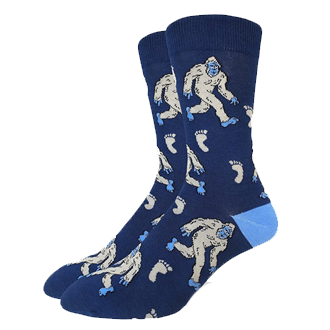 Yeti Crew Socks from Good Luck Sock
Although Sasquatch may be a uniquely American monster, other countries have their own legends about man-beasts roaming the wilderness. Those with an interest in Bigfoot tend to have an interest in them as well. This pair of socks depicts Bigfoot's foreign cousin, the Yeti, in a classic blue-white color scheme that mirrors the cold environment Yeti calls home.
✓85% Cotton, 10% Polyester, 5% Spandex
✓ Fits shoe size 7-12

---
Roaming Paprika Bigfoot from Socksmith
A bright, bold pair of socks is an easy way to add some personality to an outfit. A bright, bold pair of socks depicting Bigfoot is an easy way to show off your own, unique personality. The perfect novelty gift for a Sasquatch fan in your life, and the perfect way to take an otherwise boring outfit to the next level.
✓70% Cotton, 27% Nylon, 3% Lycra
✓ Men's Sock Size 10-13, fits a shoe size 8-13

---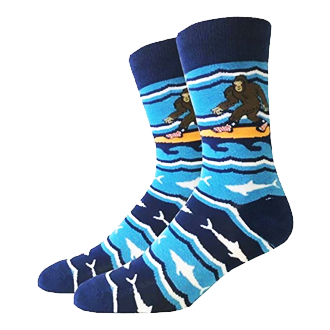 Surfing Sasquatch from Bigfoot Sock Co.
Although Bigfoot is most famous for roaming the Pacific Northwest, even cryptids need a vacation from time to time. This pair of socks shows a side of Sasquatch we rarely see, with the famous beast surfing alongside some equally intimidating sharks. If you like to imagine Bigfoot as a laid-back surfer dude who knows how to enjoy some fun in the sun, this is the pair for you.
✓75% Cotton, 22% Polyester, 3% Spandex
✓ One size fits most

---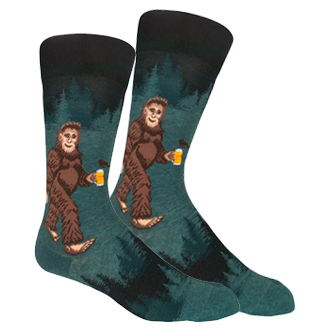 Beer Belly Bigfoot from ModSocks
While the wilderness of the Pacific Northwest probably doesn't have its own brewery catering to Sasquatch, it's still fun to imagine the famous cryptid enjoying a cold beer after a long day of eluding Bigfoot-hunters. This pair of socks depicts what happens when Bigfoot kicks back and relaxes. The graphic shows Bigfoot clutching a beer stein and stomping through the forest it calls home.
✓65% cotton/24% nylon/8% polyester/3% spandex
✓ Reinforced heel and toe

---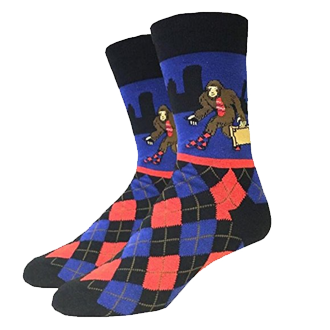 Yuppie Sasquatch with Briefcase from Bigfoot Sock Co.
Want to add a little bit of personality to your business casual attire? This pair of socks, which depicts Bigfoot heading to the office like cubicle-bound commuter, can make a boring work outfit a little more fun. Because they're made from high-quality materials, they're also comfortable and durable enough to help you get through a long work day without flying into your own Bigfoot-style rage.
✓75% Cotton, 22% Polyester, 3% Spandex
✓ One size fits most

---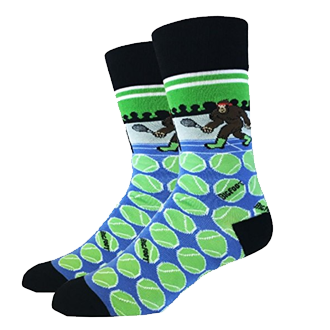 Bigfoot: Tennis Champ from Bigfoot Sock Co.
Even Bigfoot needs to keep in shape. When stomping through the wilderness isn't enough, it may be time to make the switch to sports. This pair of socks shows what might happen if the famous monster left the wilderness to take up tennis lessons. That would certainly be a funny sight. It's the perfect gift for anyone who loves both tennis and Sasquatch.
✓75% Cotton, 22% Polyester, 3% Spandex
✓ One size fits most

---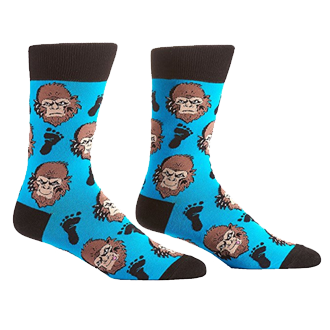 Scooby Doo Sasquatch Face from Yo Sox
We like to imagine that Bigfoot has a pretty good sense of humor. He definitely seems to enjoy messing with Bigfoot hunters. Just take a look at this pair of socks, in which Sasquatch gently mocks you by making a series of taunting faces. Know someone who loves to laugh and loves Bigfoot? They'll love these socks too.
✓68% cotton, 28% polyester, 2% nylon, 2% elastane blend
✓ Fits Men's shoe size 7-12

---
Being interested in Bigfoot doesn't have to mean taking the monster seriously all of the time. These socks blend a love for Sasquatch with a sense of humor. The fact that they're comfortable and durable is practically an added bonus. Whether you're trying to find the ideal gift for a Bigfoot fan in your life, or simply trying to find a Sasquatch-themed garment for your own wardrobe, these socks are exactly what you're looking for. Wear them around the house, to the office, or, if you're daring enough, on your very own Bigfoot hunt.