Welcome to the Bigfoot shop. Bigfoot Base offers detailed product listings for a ton of great Bigfoot/Sasquatch-related items primarily found on Amazon.com. Bigfoot Base is an Amazon Associates partner which means that I get a tiny bit of cash if you end up making a purchase! All you have to do is land on Amazon from special links on my page and make a purchase. I am an independent operation and truly appreciate any help in this form.
I am currently attempting to expand my listings of great products, because there's plenty of great sites and independent creators out there that I REALLY want to help try and promote. Until then, please enjoy my current lists of fantastic Bigfoot stuff. Whether you're looking for a gnarly Bigfoot costume for an elaborate hoaxing video, want to sip on strictly Bigfoot mugs in the morning, or just want to curl up with a soft and squishy Bigfoot doll, this Bigfoot shop page is where you start!!
* I will continuously add in new, great products to these lists, so check back often.
---
Bigfoot Toys and Dolls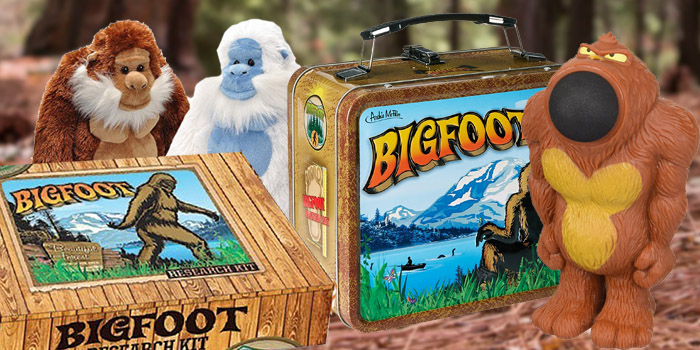 Make all the crypto-hounds in your life happy with these fantastic Bigfoot toys and dolls. These action figures, dolls, toys, and figurines aren't just for the little Squatchers in your life. Adult Bigfooters will enjoy all these unique items.
Stage the little cryptid figurines on your shoulder in your next selfie session; shoot your neighbor with the super popper Bigfoot toy; pack a few Sasquatch-sized jerkies in your vintage Bigfoot lunch box, or just fall asleep on a pile of Bigfoot plush toys. There is fun for all walks with these Bigfoot toys. VISIT THE BIGFOOT TOYS AND DOLLS PAGE HERE >>
---
Bigfoot Apparel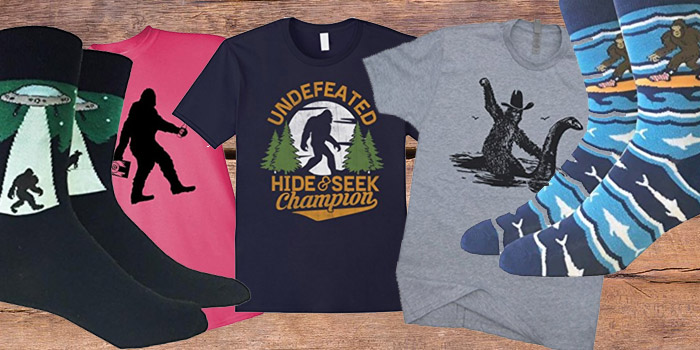 Show the world you Squatch with this growing collection of Bigfoot apparel. Bigfoot Base offers the best selection for not only Bigfoot t-shirts, but a wide range of clothing and accessories.
New in town and want to show off your intense interest in Bigfoot? Throw on a Bigfoot hat and watch the townsfolk lose their minds. Wear a Bigfoot shirt proudly and stomp through town like you just walked off frame 352 of the Patterson-Gimlin film. Or if you want to keep your Squatch love a little more discreet peel on one of our unique pairs of Bigfoot socks. All of these Bigfoot clothes and apparel demand to be worn. VISIT THE BIGFOOT APPAREL PAGE >>
---
Bigfoot Costumes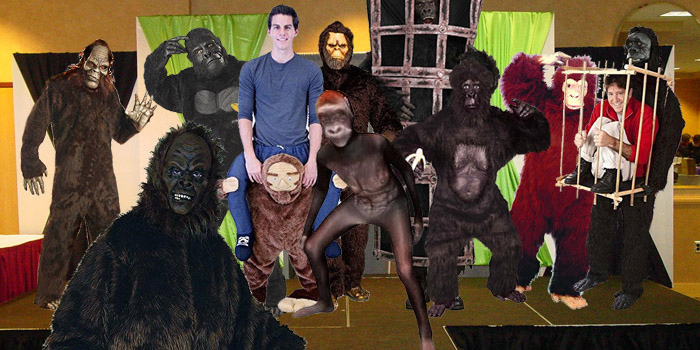 Even if it isn't the Halloween season, these Bigfoot costumes deserve to be out in the world on display. I narrowed down the 10 best Bigfoot costumes available on Amazon right now complete with colorful commentary from some amazing paranormal enthusiasts.
So if you plan for Halloween all year and can't decide which Bigfoot costume to get, hop into my ever-growing list and choose a monkey suit that makes your inner Squatch roar. And if you want to make the perfect hoax video with your friends, there's plenty of great costumes that will FOR SURE make you look like an 8-foot-tall monster… from about 300 yards away at least. VISIT THE BIGFOOT COSTUMES PAGE HERE >>
---
Bigfoot Gifts and Merchandise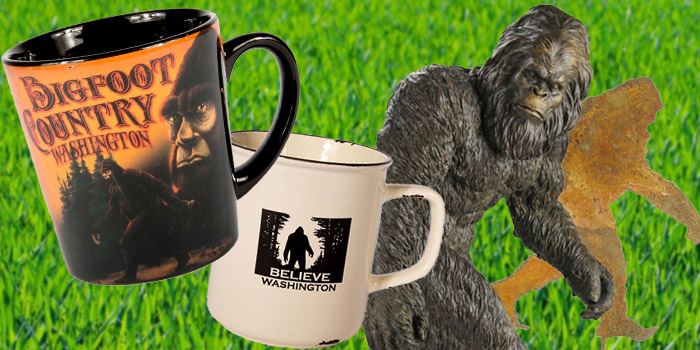 Giving someone a Bigfoot gift is a wonderful thing. Even if they like cryptozoology and mysterious monsters A LITTLE BIT, they will always laugh and deeply enjoy the gift. Try it. I guarantee Bigfoot gifts put smiles on every lucky recipient.
Want to add to a growing collection of Bigfoot stuff? Need a dependable Bigfoot statue to scare off the kids in the neighborhood? Want to take your home decor to dangerous new paranormal levels? Or do you just want to drink coffee all day from a Bigfoot mug? This collection of unique Bigfoot gifts and merchandise will satisfy everyone's itch for our favorite cryptid. VISIT THE BIGFOOT GIFTS AND MERCHANDISE PAGE HERE >>