For any Bigfoot enthusiast, it is paramount to own a Bigfoot statue in their home or yard. Most people would place a garden gnome in their yard, but a true unique individual would place a Bigfoot in their yard to show their support for such a magnificent creature. Some statues are meant to scare people upon their second glace while others make a smile break across anyone's face. The following statues range from both areas. Either way, it is perfect for any lover of all things Bigfoot. All of the statues below can be found on Amazon and go from reasonable prices to expensive. Each has a unique characteristic that can fit any personality.
Not into my list? Check out the FULL list of Bigfoot statues over at Amazon. CLICK HERE TO CHECK IT OUT.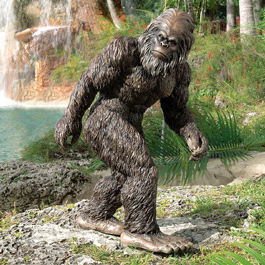 By far one of the largest Bigfoot Statues on this list, the Garden Yeti Statue by Design Toscano sets itself above the others. Hand-painted in luxurious browns, it really captures the essence of a wild Bigfoot. With the simple design and sheer size, the owner of such a statue could have their Bigfoot dressed in any way they would want after it arrives in their home. Weighing in at 12 pounds, this Bigfoot statue will function well as a heavy-duty lawn ornament.
✓ Made from a crushed stone resin, hand cast
✓ Dimensions: 18.9×19.29×28.35 inches
✓ The sheer size lends this Bigfoot statue to be above the others for those who wish to have
their yard truly stand out.

---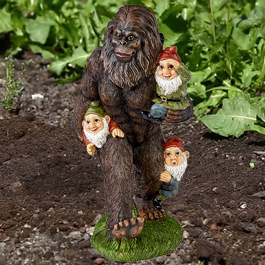 The colorful and smaller brother to the Garden Yeti Statue from before, this one hosts an array of smaller gnomes catching a ride on a seemingly friendly Sasquatch. This hand-painted statue features the colorful gnomes which give the entire piece an adorable and approachable feel to it. Weighing in at a mere 5 pounds, it is quite light to be outside.
✓ Much like the predecessor, this statue is made from the same crushed stone resin.
✓ Dimensions: 7.5×10.5×16 inches
✓ Mixture of gnomes and Bigfoot make this statue stand out in a garden and draw attention to its owner.

---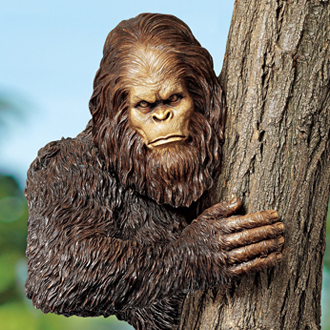 Peaking around the corned of a tree, this clever tree sculpture of Bigfoot would intrigue and scare any neighbor who studies your yard too closely. Hand painted, this sculpture has a truly authentic feel and look to it, lending further to the idea of a real life Bigfoot watching and hiding from you. With a weight of only 8.3 pounds, it is relatively light.
✓ Created with resin and plastic this is a durable piece for the outdoors.
✓ Dimensions: 15x15x11.8 inches
✓ With only a partial view of a Bigfoot, this is a unique item for collectors to place outside their homes to show their support for these wonderful creatures.

---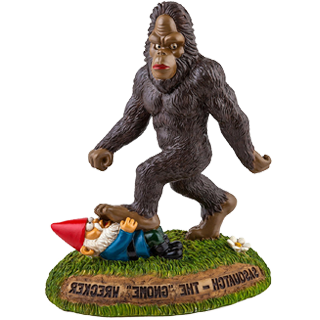 A very detailed piece, with both bright colors and intricate sculpting. This Sasquatch piece has its own personality, both with the poor Gnome being stepped on and the Sasquatch unaware of the small man beneath his foot. Who knows, maybe the Gnomes deserved it? It is hard to tell if it was a design choice or preference of the creatures, but the red lips makes the face of the Sasquatch very intriguing. Your eyes are drawn into the face of this 1.5 pound statue.
✓ Cast with a polyresin, this statue may be better suited to being indoors.
✓ Dimensions: 9.8×6.9×12 inches
✓ Brightly colored and flamboyant, this piece will stick out anywhere you would want to put it.

---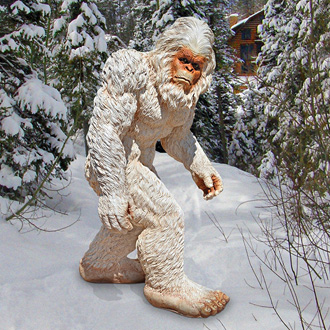 Much like it's larger sibling, this statue has the same pose, only differences are the size and the pale color of this Bigfoot statue. For those who prefer Yeti's, this would probably be the absolute perfect gift for anyone's collection. Based on its durability, it would probably be best to keep it for indoor viewing, especially since it is only 9 pounds.
✓ Made with crushed stone and resin
✓ Dimensions: 12x12x21 inches
✓ This is one of the few Yeti-style Bigfoot statues to grace the market, making it special.

---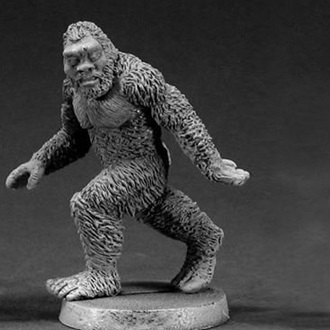 Alliance has come up with a small Bigfoot statue that features, once again, the iconic Patterson/Gimlin walking pose. The fun part of this piece is that it is easy for someone to customize it to fit their personality perfectly. If you decide to purchase this piece or multiples, a family can create their own family of Sasquatches. Not too heavy either, this piece weighs in at just 1.1 ounces.
✓ Either way it is easy to paint.
✓ Dimensions: 5.5×3.2×1 inch
✓ Good for games or art projects, this piece is better for indoor use or as a toy for older kids and teens.

---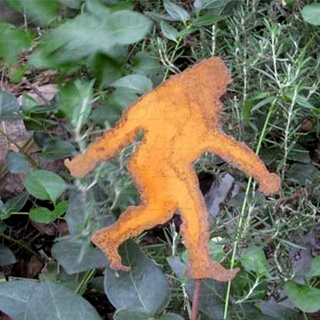 The only 2D design on this list makes the Bigfoot Garden Stick a special product on its own. More suited for the minimalist, this has just enough spunk to sit next to a mailbox and let people know just how friendly you are to the local Bigfoot community. This company even offers a protection plan to keep you sign in its best condition possible. At only 2 pounds, it is relatively light for the material it was created with.
✓ Crafted out of 20 gauge steel with an acid etched rust finish 18 inch steel rod holding it upright in the air
✓ Dimensions: 9×9.5 inches (alone)
✓ Made in the USA, you can feel good about getting this garden decoration from a country who has the wide open spaces that this creature walks through.

---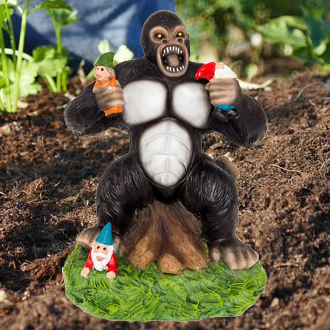 A truly unique piece, this Bigfoot statue by GreenLighting may not technically be a Bigfoot. Equally frightening and amusing, the bright colors clash with the monstrous face. This energy efficient product is the perfect statement piece for any Bigfoot loving gardener. At just 1 pound, it might be wise to keep an eye on local wind speeds.
✓ Made with both polyresin and plastic, this is a strong outdoor product
✓ Dimensions: 7.5x8x11 inches
✓ With a solar powered LED light, this lawn ornament works best outside in a garden to scare away pesky neighbors or animals.

---
Sasquatch Statues for Every Lawn and Garden
With all of these fabulous statues in mind, it can be hard to pick your personal favorite. Based on Bigfoot statues from above, there are obvious benefits for each one and definitely disadvantages. All it really comes down to is choosing which is best for your home or garden or for whatever other reason you have for your brand new Bigfoot statue. A personal favorite would be the steel garden type sign. It is heavy duty and will last through seasons, yet there is always a place in my heart for gnome smashing mayhem.