You don't need to know a big Hollywood makeup artist to pull of a convincing Yeti costume. The costumes here range from playful kids' outfits to intimidating adult get-ups. All of them have one thing in common: they're perfect for anyone who has ever wanted to dress up as the Abominable Snowman. Maybe you're heading to a Halloween party, and want to make an impression. Maybe you're filming your own Yeti movie. Maybe you just enjoy cosplay. Either way, with the right Yeti costume, you'll look just like the famous beast.
---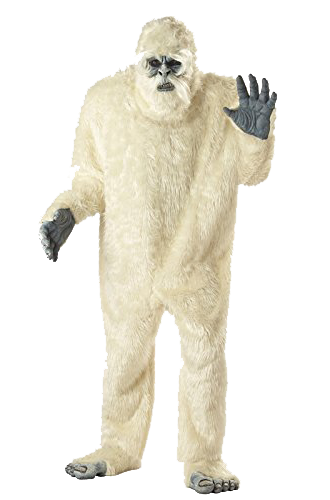 Abominable Snowman Costume from California Costumes
Sasquatch may be the most famous American incarnation of Bigfoot, but his foreign cousin, the Yeti (aka the Abominable Snowman), is also one of the most well-known cryptids on the planet. This realistic Men's Yeti customer is perfect for Halloween, costume parties, and any other occasion when you have a good reason to dress up as one of the world's most famous monsters.
✓ 100% Polyester; Faux Fur: 84% Polyester/16% Acrylic
✓ 6.5' High



---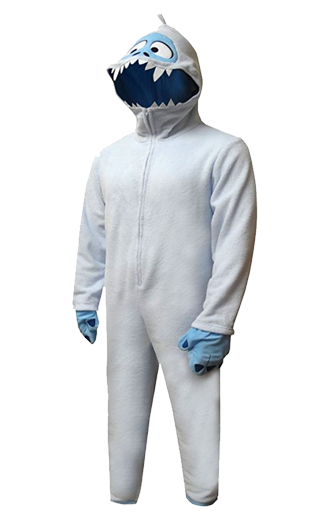 Bumble Uniform Union Suit from Beif
Not all depictions of the Yeti have been terrifying. Sometimes, they're right at home in a child's animated film. The Abominable Snowmonster of the North, also known as Bumble, was the kid-friendly villain in the classic Rudolph the Red-Nosed Reindeer holiday special. Now you can dress up just like this beloved character with this fun Yeti costume. It's great for cosplay events and holiday parties, especially if watching this short film is an annual tradition.
✓ Polyester
✓ Standard Men's sizes



---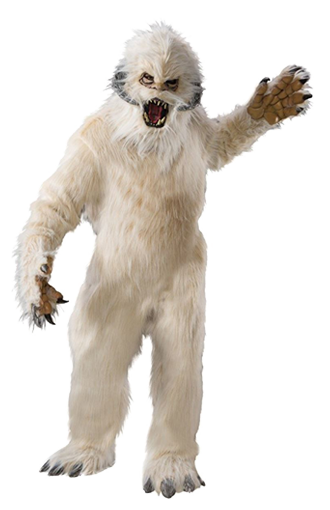 Authentic Wampa Costume from Rubies
Does the Yeti also exist in a galaxy far, far away? Could be. Although the Wampa, which first appeared in Empire Strikes Back, is unique to the Star Wars universe, it certainly bears more than a few similarities to the Abominable Snowman back here on our planet. This authentic costume lets you become one of the most feared beings in the entire universe. From the Himalayas to the ice planet Hoth, there's nowhere this monster won't turn up.



---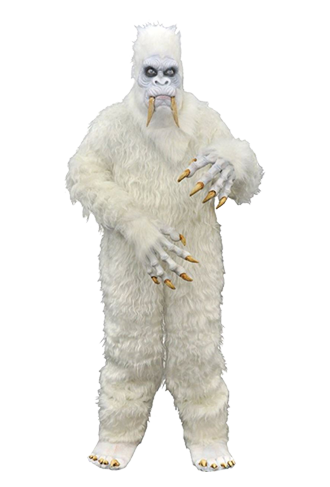 Tusked Yeti Costume from Morris Costumes
Know a woman who loves cosplay just as much as she loves cryptids? If so, she'll love this Women's Yeti costume. Sporting white fur, tusk-like fangs, and threatening claws, it's sure to make an impression at costume parties and cosplay events. Its realistic features also make it a great costume for anyone interested in making their own short films about the Yeti. For a monster moviemaker on a budget, it's the ideal option.
✓ 20% polyester
✓ Adult costume one size



---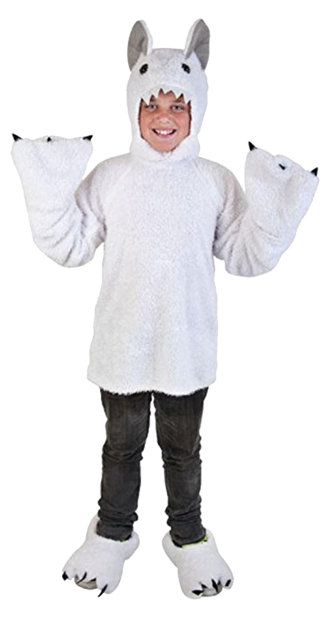 Kids Yeti Costume from Wilton
Kids may want to dress up as the Abominable Snowman too, but they may need a less-frightening costume than the kind an adult might wear. This Yeti costume is perfect for children. Not only does it look much more kid-friendly than similar costumes for adults, it also has a hole for a child's face, so they don't have to try breathing through a mask.
✓ Size Large 12-14
✓ Contains head piece, body suit, and foot covers



---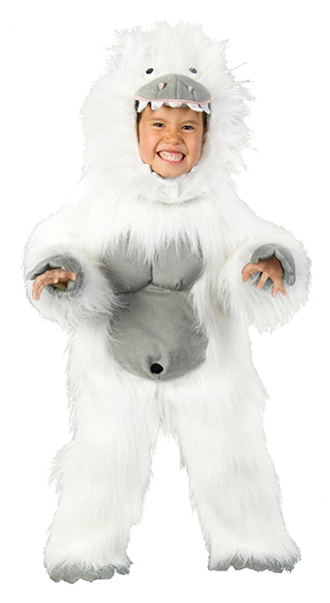 Abominable Snowman Costume from Princess Paradise
Plenty of people with a lifelong interest in Bigfoot, the Yeti, and similar cryptids, first fell in love with these beasts during childhood. It's easy to see why such fantastic creatures appeal to kids. It's also easy to imagine why a kid might want to dress up as one. With this Yeti costume, they can. Your little boy will be the star of Halloween next year with this outfit.
✓ Jumpsuit and hat, both with white long pile faux-fur
✓ Jumpsuit has gray fleece chest and belly and attached hand and shoe covers; character hat with soft yeti face closes with Velcro at chin.



---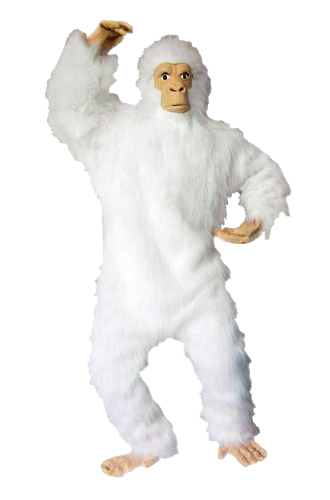 Plush Gorilla Yeti from C4L
As any cryptid enthusiast knows, the line between the Yeti and other mammals can be a little blurry at times. These creatures bear a striking resemblance to animals like gorillas. That's why this white gorilla costume also works as a great Yeti costume, looking just like popular depictions of the Abominable Snowman. It also makes for great Planet of the Apes cosplay. You can always repurpose it as a gorilla costume if you ever find a reason to.

---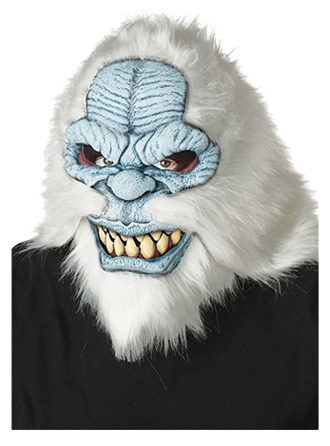 Ani-Motion Yeti Mask from California Costumes
Want to make your own Yeti costume, but don't know what you're going to do about the creature's face? Then this mask is perfect for you. It shows the famous creature staring down its prey with an aggressive snarl that will take your costume to the next level. Its blue/white color palette is ideal for a Yeti costume, perfectly matching the colors of the creature's home environment.



---
Whether you're a kid, or a kid at heart, these Yeti costumes are sure to scare the guests at your next big Halloween party, or any other occasion where you'll want to don a convincing outfit. They're made from quality, comfortable materials, and while some are cute and kid-friendly, others are downright frightening. They're the perfect gift for anyone who's ever had any reason to dress up as Bigfoot's overseas buddy.