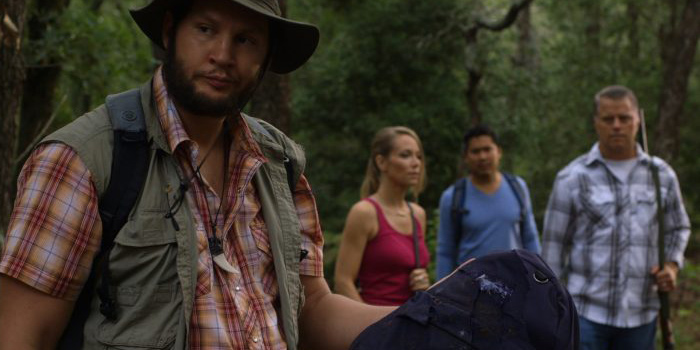 From creator Dallas Morgan comes a backwoods Texas tale of lurking Sasquatch on a small-town Sherriff's ranch. Battling inner turmoil following his wife's departure, Sherriff Ted slowly awakens to the possibility that the presence beyond the treeline might have something to do with not only the dead girls on his property, but his wife's absence as well. Here's the description from IMDB and a trailer.
"A character-driven sci-fi mystery about a dysfunctional family living on a ranch in TX threatened by a cryptid in their woods. Ultimately, they must overcome their interpersonal conflict in order to unite and survive."
Quick positive thoughts before a more complete evaluation below:
Sightings surpasses typical Sci-Fi Channel Bigfoot movies with a pace-ushering score, quality acting, and commendable camera work. Not to mention a very intriguing crossover that many will not see coming. Watch it here.
I'm a B-movie junkie. So far in my life I have not discovered the Godfather of Bigfoot movies. I have not seen them all, but I have seen a lot. Boggy Creek whisks up nostalgic fear and champions an important time period for Bigfoot, but it's not a movie I can confidently recommend to a random stranger. I don't think there is a Bigfoot movie like that yet. Sightings fights for that title, but tires out, despite many powerful qualities.
The Good?
Dallas and his team brought together a really competent class of actors for this picture. Each provided strong delivery and felt devoted to their roles. The supporting cast fortified this movie, especially conspiracy theorist/beekeeper Jerry and he local security whiz Akiro (Dante Basco, of 'Hook' fame). I haven't seen him in anything since Hook, but I guess acting chops never leave certain people.
Though one can argue that Boo Arnold is your "typical" leading man, he is an excellent choice for a low-budget Bigfoot mystery. He of course, fits the police mold extremely well, and glows as a conflicted skeptic. He connects very well with the daughter Hannah (Tahlia Morgan). Their screaming exchange midway through the film was fantastic and his arc felt genuine, though worn.
I was very impressed with the finer details of this picture. Of course, going into a Bigfoot movie I always expect certain things, especially in the audio department, like camcorder-quality dialogue and out of whack sound fx. Forgive my broadstroaking, but the cinematography, sound design, and majority of the score are great quality.
The Bad?
Despite command of the camera, an intriguing premise, and a shepherding score, I felt like Sightings struggled to really energize me one way or the other. I wasn't scared, concerned, happy, sad, or really anything. No doubt I felt moderate appreciation for a well-executed Bigfoot movie, since they are so rare, but I felt like there were intangibles missing. I think this may be attributed to the heavy 'mystery' element. I definitely approached it as a horror film. Not much tense horror present unfortunately. More night-time scenes may have throttled my blood-flow, including a few more minutes dedicated to the deer stand scene, for example.
I have an overarching complaint not specific to Sightings. If your movie has a Bigfoot, please, for the love of god show us the monster. I have this in so many recent Bigfoot movies. I understand that budget is an issue in any independent film… but don't even make a Bigfoot movie if there is no money for a Bigfoot. Boggy Creek provided enough atmosphere and staunch, hanging creepiness to not have to reveal a full blow face, but Sightings doesn't really quench my thirst like that. I think it's just missing charm. I love the massive stomp reverberations, flowing hairy legs, and hulking silhouettes, but a tenser, more colorful atmosphere may have taken this to another level. Despite these minor complaints, I can't wait for Dallas's next picture. Once you know that a director knows what he or she is doing, it makes it much more exciting to sit down with their material.
— AJ