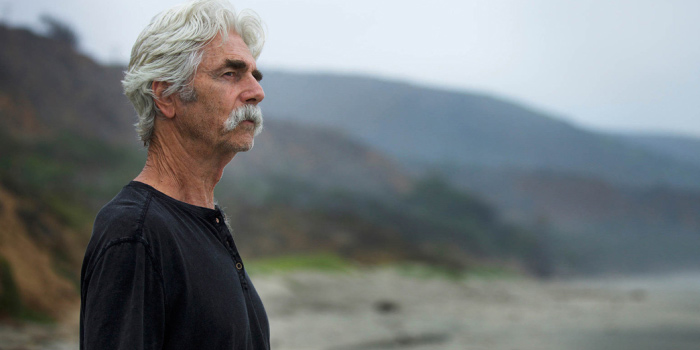 How do you top killing Hitler? You kill Bigfoot, of course.
That's the premise of an upcoming film, The Man Who Killed Hitler and Then The Bigfoot, starring Sam Elliott. The actor plays Calvin Barr, a WWII veteran who has opted for a carefree life in New England after assassinating the Fuhrer. When the FBI and the Royal Canadian Mounted Police learn that Bigfoot is carrying an infectious plague, they hire Barr to take out the creature.
Writer/director Robert Krzykowski is helming the project, and principal photography began in August 2017.
Will this film take an authentic approach to Bigfoot lore? Probably not, based on the premise. That said, it's still exciting to know another Bigfoot film is in the works. Even though it's one of the most well-known cryptids on the planet, Bigfoot rarely makes an appearance in major films. The star power of Sam Elliott, who recently surprised audiences with his heartbreaking performance in The Hero, may attract viewers who would otherwise dismiss this movie. It's also not unreasonable to hope the filmmakers will treat the subject matter with some degree of seriousness.
The film will mark Krzyowki's feature directorial debut. Elliott, on the other hand, has had a long and storied career as one of Hollywood's go-to tough guys. If your protagonist is tasked with killing Bigfoot, you need to cast an actor who's believable in the role. Not many people can sell the "Bigfoot hunter" character. Sam Elliott is among the elite few.
Films about the paranormal often fail to accurately depict the nature of the phenomena. Fire in the Sky may have some terrifying sequences, but it's not a realistic depiction of the alien abduction experience. Viewers probably shouldn't go into this movie expecting a thoughtful take on Bigfoot.
However, the fact that such a movie—with such a renowned star—can still get made speaks to the allure of the Bigfoot phenomena. Audiences immediately know what type of film they're in for when they buy a ticket to this movie. Bigfoot is still a recognizable pop culture icon, and that must say something interesting about the creature's existence.